If you have dyslexia, it can be frustrating and exhausting to read texts for your education. This is perhaps even more true for reading from a screen than for reading from paper. Still, it is sometimes necessary to read pages of text in your browser, including on All You Can Learn. Fortunately, there is now an extension available for Google Chrome that makes reading easier for dyslexic participants, by converting the font to one specifically designed for people with dyslexia. In this article we will explain how to install this extension in Google Chrome, but the creators also made a video explanation in English. Don't have this browser on your computer yet? You can download it here for free.

What is een browser extension?
An extension is also known as a plugin. It is a piece of software that can be added to a larger program to provide additional functions. In this case we are talking about the Dyslexia Font plugin. It can be added to Google Chrome, the browser we recommend for All You Can Learn.

How do I install this browser-plugin?
You can install the plugin from this webpage in the Chrome web store. At the top right you'll see a blue button that says 'Add. to Chrome'. Clicking this will install the plugin:

After that a pop-up will prompt you to confirm your choice. Click 'Add extension'.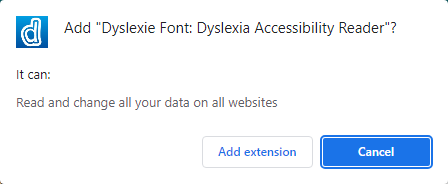 Usually the extension is hidden behind the jigsaw puzzle button at the top right next to the address bar. Click the jigsaw button and subsequently the thumb tack to have the extension pinned right next to the address bar. NB; Make sure you only add extensions you trust!


When you click on the blue 'd' of the plugin you will see the following window: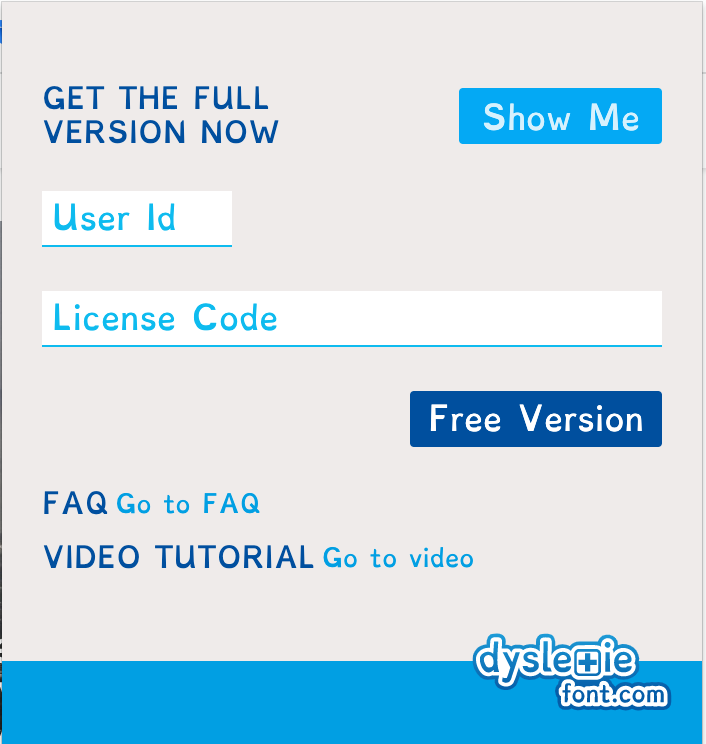 You can purchase the full version by clicking 'Show Me' at the top right, but this is not necessary! When you click on the dark blue button 'Free Version', the extension becomes active. Most of the text in your browser now changes to a font that has been specially developed to be easy to read for dyslexics. Note: the plugin does not work on the page of the Chrome web store where you installed it! So try visiting another website first if you think it doesn't work.
Another window with a number of scroll bars will now appear as well. You can only adjust these settings when you choose the paid version.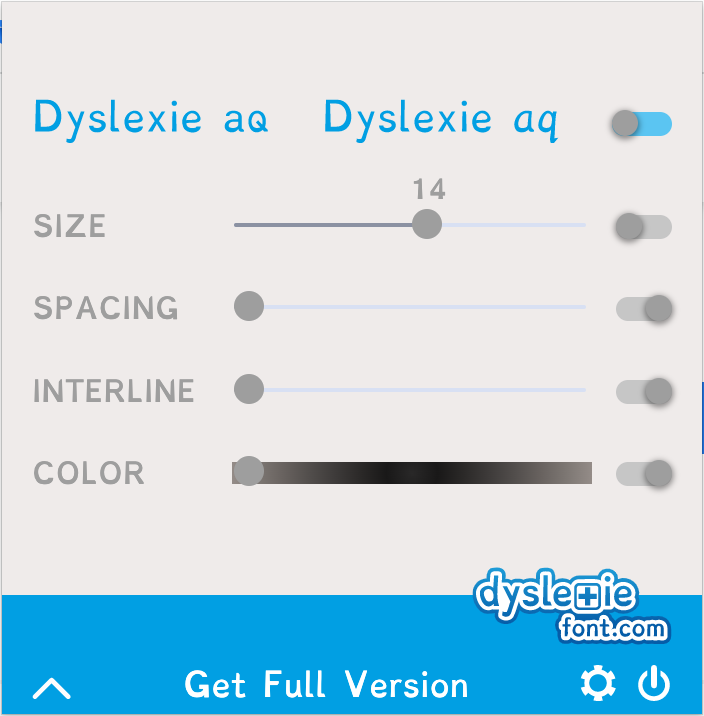 The free version unfortunately doesn't allow you to change the size and color of the letters, or the space between them. That's why the buttons are gray. However, it is possible to adjust the appearance of the letters 'A' and 'Q', depending on what you find more comfortable.
The box disappears when you click next to it, and then you can get to work.
Temporarily turning off Dyslexia Font
Do you want to work without Dyslexia Font for a while or does it not work well on a website you are viewing? You can temporarily disable this extension by clicking the logo in the address bar again and then clicking the on/off button in the image above.
Removing Dyslexia Font from Chrome
Are you not satisfied with this extension? You can easily remove it from your browser. All you need to do is right-click on the Dyslexia Font logo next to your address bar. A menu will appear that includes the option 'Remove from Chrome'. Click on this, and then on the blue 'Delete' button.
Do you want to print this article? Read here how to do that.